Do your diaper smell so bad, it makes your nose burn? Even after washing and stripping your diapers over and over, you still can't get that musty smell out of them!
Save your diapers and your nose with Eco Nuts Ammonia Bouncer for Cloth Diapers!
Eco Nuts sent me a bottle of their Natural Ammonia Bouncer to review.
I was thrilled to try out this new product, and I must say I am impressed.
*Before using Eco Nuts Ammonia Bouncer, it is best to strip your diapers, as build up may keep the product from getting in contact with the fabric.*
Check out how I Strip My Cloth Diapers
HERE
(Wash and Dry Diapers as usual before using.)
To get that awful smell out of your diapers, here is what you will need:
Eco Nuts Natural Ammonia Bouncer
A shallow basin or bucket
One Tablespoon
Wooden or Plastic utensil (optional)
Fill your bucket with 1 gallon of water.
(I used Hot water)
Soak your diapers in the bucket.
Add more water if needed.
Add 1-2 tablespoons of Ammonia Bouncer.
(I only needed 1 TBS per soak)
Use your utensil to agitate your diapers, making sure the Ammonia Bouncer reaches every part of your diapers.
Let them sit and soak for 2-3min.
Lastly, wash and dry as usual.
No More Stink!
Eco Nuts Natural Ammonia Bouncer is a must have for cloth diapers!
You don't know what your missing. I highly recommend anyone who cloth diapers to have Eco Nuts Ammonia Bouncer on hand, cause you never know when that awful smell will come back around.
Never have stink problems again with Eco Nuts Natural Ammonia Bouncer!
Disclaimer: I was given products in this post for the purpose of my honest review. I was not paid in any way to write this review nor did I pay for the product. This review is sponsored by Eco Nuts.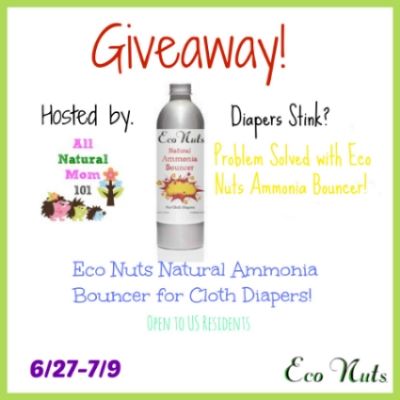 Welcome to the Eco Nuts Ammonia Bouncer Giveaway sponsored by Eco Nuts and hosted by
All Natural Mom 101
.

One lucky reader of AllNaturalMom101 will win one(1) bottle of Eco Nuts Natural Ammonia Bouncer for Cloth Diapers.
The Giveaway Starts June 27th-July 9th.
Open to US residents only.
Enter the giveaway via Giveaway Tool below.
Good Luck!