About a few months after my first son was born, I discovered cloth diapers. I was actually in the changing room at our local Babies R US and saw another mom changing her baby. I noticed right away that his diapers were completely different than my sons. I began to asked her about them and instantly, I was hooked. It was love at first site.
So than I went home to do some research on these cloth diapers and told my husband all about them. He was totally grossed out and looked at me like I was nuts. Even after explaining all the benefits they had to offer, such as being environmental friendly, chemical free, full of super cuteness and of course to save money. He still wasn't sold on it, especially after seeing that one cloth diaper cost just as much as a pack of disposables.
But of course, after tons of convincing, he gave in and supported my decision to cloth diaper our son. Three years later, we are now cloth diapering our second son. We both do not regret the decision to cloth diaper our children.
Through our cloth diapering journey, we have came across products that make cloth diapering a breeze and I don't know what I would do without them.
So if you are or thinking about cloth diapering, these are some products that I highly suggest that will make your experience so much easier.
If you are going to use cloth diapers, you might as well use cloth wipes too. When we first started cloth diapering, we used regular disposable wipes. We found that it was a pain after a while to have to set dirty wipes aside while you finish changing the baby's diaper and then having to toss the dirty diaper into your diaper pail while you toss the wipes into the trash. Using cloth wipes makes it so much easier to be able to toss both diaper and wipes into the same pail at the same time. You also get the same benefits from using cloth wipes that you get using cloth diapers. Our favorite Cloth Wipes that we love and found super easy to use are
Diaper Dawgs
Heavy Dooty Cloth Wipes.
Check out my review on
Diaper Dawgs
Wipes-->
HERE
2. Wipe Solution
When using cloth wipes you need some kind of solution to wet them. Whether that be water, wipes cubes, home made solution or sprays. We love love love
Kissaluves
Diaper Lotion Potion spray bottle. It smells so good! I love the spray bottle option, I find it more easier to use. Simply spray a cloth wipe or your baby's bum and wipe the mess away.
Kissaluves
Diaper Lotion Potion is the perfect size to keep on the changing table or to take on the go in the diaper bag.
3. Pail Liner
I really don't know what I would do with my dirty diapers if I didn't have a diaper pail with a water proof pail liner. With using disposables, you just toss the dirty diaper into the garbage pail. Well, you obviously can't throw a cloth diaper into the trash once it's soiled, instead you would just toss your cloth diaper into a diaper pail rather than the garbage pail. So why would you need a pail liner? Why not just toss your dirty diapers into an empty bin and then dump it into the washer on wash day? Well you can do that, but having a pail liner will make your life 10 times easier. Pail Liners are made with a waterproof PUL interior that helps keep in odor and prevents leakage. One of my absolute must have is a
Planet Wise Pail liner
! They are made sturdy with an anti-microbial material and are washable. I have tried multiple brands and types but nothing compares to
Planet Wise Pail liners
. They also come in various colors and prints! Conect with Planet Wise on
Facebook
.
4. Wet Bag
One of the most asked questions I get from parents that are new to cloth diapering is, how do you cloth diaper while your out of the house? When I first looked into cloth diapering, this was my biggest fear. I wasn't sure what to do with my dirty diapers when I wasn't home to put them into the diaper pail. Then I found out about these things called Wet Bags. They are like mini, travel size diaper pails. Like pail liners, wet bags are made with the same water proof PUL material but with a zipper or draw string to keep your on the go diapers sealed. Actually, they can be used for more than just cloth diapers. While on the go, we use them for wet bathing suits, dirty & wet clothing, dirty toys, used baby bowls and spoons etc. I am in love with
Maxwell Designs
Wet Bags. They are made in CAN by a wahm (work at home mom).
Maxwell Designs
Wet Bags come in lot's of prints and colors. They are very durable and I love the clip on handle making it easy to hang anywhere. I can fit about 4-5 diapers in them.
5. Cloth Safe Diaper Cream
It is very important to use cloth diaper safe cream with your cloth diapers. I get this question a lot as to why must diaper creams be cloth diaper safe? Well, most mainstream diaper rash creams contain cod liver oil which can wreak your diapers, creating a huge barrier on your diapers as well as your baby's bum. This could really damage your diapers causing them to repel from the creamy barrier on the fabric which means you will constantly have to strip your diapers, which is a whole different story. Even though my son rarely ever gets a rash after switching to cloth, I highly suggest using coconut oil and or
Eco Sprout's Coconut stick
. Smells so yummy and works like a charm. We actually use coconut oil at home and the
Eco Sprout
stick on the go. Fits perfect into the diaper bag.
6. Liners
Liners
are amazing to use for many reasons. One would be to use them when you are using diaper creams, even if it is cloth diaper safe. A lot of diaper manufactures states that no cream is safe. Personally I have never had a problem using a cloth diaper safe cream on my diapers, but if you are afraid that any cream could void the warranty on your diapers than I would suggest using a liner. Another reason to use a liner is to make clean up easy. With liners you rarely need to rinse off poopy diapers into the toilet. You simply lay the liner on top of the diaper and once baby poops you just dump the whole thing into the toilet and flush. They are awesome to use on the go or on vacation. Like I said they will make clean up a breeze. I love
Applecheeks
liners. They are biodegradable and all natural.
7. Spray Pal
Oh my!
Spray Pal
has got to be one of the best inventions for cloth diapers. Seriously, the day I bought my Spray Pal, my life changed forever. I don't gag or squint my eyes while spraying poopy diapers into the toilet anymore!
Spray Pal
is the perfect cloth diaper accessory for anyone that is grossed out by cleaning dirty diapers. They help keep the yucky back-splash off your walls, floor and your hands while spraying the poop into the toilet. We also used our
Spray Pal
while potty training my son to spray his accident clothes with, which was a life saver! They are super easy to use and when your not using it, they fold down nice and flat to easily store into a wet bag or anywhere in your bathroom.
8. Detergent
It is important to find a good detergent, one that works best for you and your diapers. I have tried SO many different brands, Cloth Diaper Safe, Non-Cloth Diaper Safe, Liquid, Powder and Home Made. We went through so many till we found one that we loved, and that is what I personally recommend is to find one that works best for you and your diapers.
Molly's Suds
Cloth Diaper Detergent meets all of our needs. We even use their regular detergent on our clothing.
Molly's Suds
Cloth Diaper Detergent is all natural, gluten free, nut free and has no preservatives or GMO ingredients. Naturally brightens and removes stains, we found that it is just as effective as conventional brands but has no harsh chemicals! Seriously Molly Suds is our favorite detergent of all time! Molly's Suds has amazing customer service and fast shipping. I can't get over how much we love there products! Check them out on
Facebook
.
9. Wool Dyer Balls
When it comes to washing cloth diapers, using fabric softener is a big No-No. Fabric softeners can create build up and cause repelling. Wool Dryer Balls are easy to use and are a natural alternative to using dryer sheets and fabric softener. They actually call it
Natural Fabric Softener.
Dryer Balls
can also reduce drying time and static.
Buddha Bunz
100% wool dryer balls are one of my favorite dryer balls to use.
I recommend using 6-8 dryer balls at a time.
You can find Buddha Bunz Dryer Balls on
Amazon
.
10. Ammonia Bouncer
Now you should know that when using cloth diapers, you are going to run into smells every now and then. Our babies pee and poo in them which will eventually lead to ammonia issues.
Eco Nuts
Ammonia Bouncer is a MUST MUST MUST in my book. This natural ammonia bouncer was designed to take care of your smelly diapers and to keep that smell away. Check out my
Eco Nuts
Ammonia Bouncer Review-->
HERE
Like I said before, I don't know what I would do without these Cloth Diaper Must Haves.
But I do know that I am so happy I chose to cloth diaper my boys.
One of my Favorite Online Cloth Shop is Figgy Fuzz Baby Boutique. You can find most of these products listed above there.
Check out my other helpful cloth diapering post like
How to Strip Your Cloth Diapers
Disclosure: All Natural Mom did not receive compensation for this post. All Options are my own. Products in the post were either received as a past review (stated next to the product) or purchased by myself.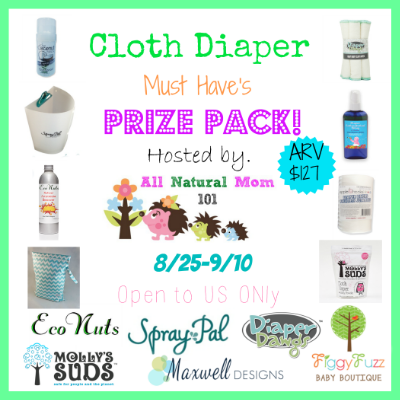 Welcome to the Cloth Diaper Must Have's Giveaway!
Hosted by
All Natural Mom 101
.
Co-Hosted by
The Parenting Patch
&
A Spectaled Owl
Sponsored by
Eco Nuts
,
Spray Pal
,
Diaper Dawgs
,
Figgy Fuzz
,
Molly's Suds
and
Maxwell Designs
.
One lucky reader of AllNaturalMom101 will win a Cloth Diaper Must Have's Prize Pack.
Prize pack contains one(1) pack of Diaper Dawgs Heavy Dooty Cloth Wipes, one bag of Molly's Suds Cloth Diaper Detergent, one Spray Pal, one bottle of Eco Nuts Ammonia Bouncer, one Maxwell Designs Wet Bag, one pack of Applecheeks disposable liners, one bottle of Kissaluvs Diaper Lotion Potion and one Eco Sprout Coconut Stick.
Prize Pack worth $127
Open to US Only.
enter the giveaway below.
Good Luck!


Disclosure: This Blog and all other promoting bloggers have not been compensated in any form for this publication, nor are they responsible for the fulfillment of the prize. Please contact Kaitlyn at www.allnaturlmom101.com if you have any questions, comments or concerns. Thank you